Vibrant Brazil: Rio de Janeiro, dense jungles & white-sand beaches
Learn to dance the samba in Rio, take a boat ride through the islands of Paraty and uncover the cosmopolitan sights of Sao Paulo
Vibrant Brazil: Rio de Janeiro, dense jungles & white-sand beaches
Overview
Itinerary
Accommodation
About your trip
Travel to Brazil and you'll find yourself in a landscape of electrifying cities and breathtaking natural beauty – brought together in Rio de Janeiro.
This nine-day adventure starts in Sao Paulo and ends on the sun-kissed shores of Rio de Janeiro. Between then, you'll escape to picturesque Paraty, hike around a tropical fjord, learn to dance the samba and craft unique cocktails using Brazilian flavours.
Uncover the beating heart of Brazilian culture on this vibrant adventure.
What's Included
Accommodation in twin rooms
Equipment
Guide
Local transport
Most meals included
Max 14 travellers per group
Private airport transfers
Remember, flights aren't included and prices are based on sharing a twin room. If you'd like to upgrade to a single room, you can add this during the booking process or by contacting our Customer Experience team.
Your Itinerary
Day

01

Embrace the energy of Sao Paulo

Welcome to Sao Paulo, Brazil's biggest and most energetic city. Ranking amongst the world's most populous cities, we're talking about a true bustling metropolis the likes of New York. Here, you'll find a city of stylish cafes and restaurants, lively nightlife and vibrant multiculturalism. You'll be greeted at the airport by a private transfer, ready to whisk you away to your hotel in the city. Meet your fellow travellers and guide, enjoying your first drink together in a rooftop bar with panoramic views over Sao Paulo's concrete jungle. Follow this up with a pub crawl around Vila Madalena, a creative neighbourhood lined with graffiti murals, bars and art galleries.

Day

02

Escape to colonial Paraty on the tropical coast

After breakfast at the hotel, you're off to uncover the sights of Sao Paulo. From Paulista Avenue to historical Old City, you'll explore the city's most iconic landmarks by foot. Then, it's time for lunch at Mercado Municipal. Here, you'll sample a few Brazilian classics such as pastel de bacalao (codfish pastry) and mortadella sandwich. Then, leave Sao Paulo behind you, heading onwards to Paraty. Enjoy a scenic drive through the jungled mountains down to the coast, with a short stop at Pedra da Macela to absorb beautiful landscape views of Paraty Bay (your final destination). You'll then descend down winding roads until you reach Paraty, a colonial port town nestled along the Atlantic Coast. Surrounded by lush rainforest and turquoise waters, welcome to your secluded coastal retreat. The rest of the afternoon is yours to spend at leisure.

Day

03

Jeep through a landscape of jungles & waterfalls

This morning, take a thrilling jeep tour through the coastal wilderness surrounding Paraty. You'll navigate a landscape of waterfalls and dense rainforest, following the historical Gold Trail through the jungle. For lunch, you'll enjoy a typical Brazilian menu featuring a choice of roast beef or grilled fish. It's then back to Paraty, where you'll explore the city on a walking tour, with regular stops to sample locally-produced cachaca – Brazil's beloved spirit. Take the rest of the evening to explore Paraty at your own pace, from its restaurants to nightlife.

Day

04

Boat through a tropical bay of islands

First thing this morning, you'll catch a boat over to Saco do Mamangua, an inlet of turquoise waters with a striking fjord-like atmosphere. Settle in for a full-day boat tour, with plenty of stops for swimming, relaxing and enjoying spectacular coastal views. Once you arrive at Saco do Mamangua, you'll enjoy a short hike up Sugarloaf Peak, which offers beautiful views over the jungled peninsula and sparkling bay. Savour invigorating views from the top, then you'll make your way back down to ground level, with a quick stop for some snorkelling. Enjoy a well-earned lunch with your fellow travellers, then a leisurely day on the beach lies ahead.

Day

05

Sun-kissed beach life in Rio de Janeiro

After breakfast at the hotel, swap the coastal serenity of Paraty for the urban rhythms of Rio. Settle in and enjoy the four-hour drive along the coast – as scenic as you can imagine. Upon arrival in Rio, you'll have the rest of the afternoon to explore your new city at leisure. From its bustling beaches to twinkling cityscape, there's a real sense of energy and vibrance here that will sweep you into its rhythm. Our suggestion? Meander down to Ipanema for a dip in the sea, or savour views of the city from Arpoador Rock. Reconvene with your group in the evening to enjoy a beautiful sunset with a drink in hand, followed by dinner and cocktails at a stylish Ipanema bar.

Day

06

Christ the Redeemer & Brazilian cocktails

This morning, you're off to Corcovado Mountain, where snaking trails lead up to the towering statue of Christ the Redeemer. Savour expansive views over the bay, dotted with islands that fade into the horizon. Lunch will be at a traditional Brazilian restaurant, serving classic dishes such as slow-roasted pork ribs and feijoada (black bean stew). You'll then visit the beautiful Parque Lage, a public park just outside the Botanical Gardens. Located at the foot of the Corcovado, the contrast between this former mansion grounds and the surrounding rainforest is strikingly atmospheric. Back in town, you'll have a couple of hours to spend as you please, before gathering with your group for an exclusive cocktail-making class. Learn all about Brazilian flavour combinations, as you craft your very own cocktails from scratch (and drink them, too).

Day

07

Take on the rhythms of samba

Start the day with a gentle hike up Pedra Bonita, one of the peaks of Rio overlooking the beautiful azure coastline. Breathe in the glorious views at 2200 feet altitude, before returning to the city in time for lunch (which is yours to arrange). In the afternoon, immerse yourself in Rio's carnival culture, learning all about the history of samba and carnivalesque parades. Then, it's time to learn a few samba moves. Relax with a caipirinha cocktail as you embrace the rhythms of salsa, before making your way to Ipanema Beach to catch a spectacular sunset.

Day

08

Coastal hiking & Brazilian BBQ flavours

Your day begins with a quick hike up Morro da Urca, where you'll catch a cable car over to Sugarloaf Mountain: Rio's most iconic natural landmark. Enjoy vast views of the cityscape unfolding before you, then it's onto a local restaurant for lunch. Tuck into a sizzling Brazilian barbecue with your fellow travellers, followed by a cold beer overlooking the seafront. We've left the afternoon free for you to enjoy Rio as you please. As evening falls, reconvene with your group for a farewell feast at a vibrant restaurant-come-nightclub.

Day

09

Tchau, Brasil

After breakfast at the hotel, it's time for you to make your own way to the airport. If you booked a flight home from Sao Paulo, we recommend catching a domestic flight from Rio, with sweeping views of the coast to enjoy from your window. Looking to explore South America further? Perhaps Argentina or Chile might be just what you're seeking.
Our Favourite Hotels
Browse a selection of our favourite hotels, for a flavour of where you may stay on this trip.
Pousada do Ouro, Paraty
We hear Mick Jagger is a fan of this delightful retreat, tucked away in a whitewash facade of tropical gardens – but just moments from the center of Paraty town.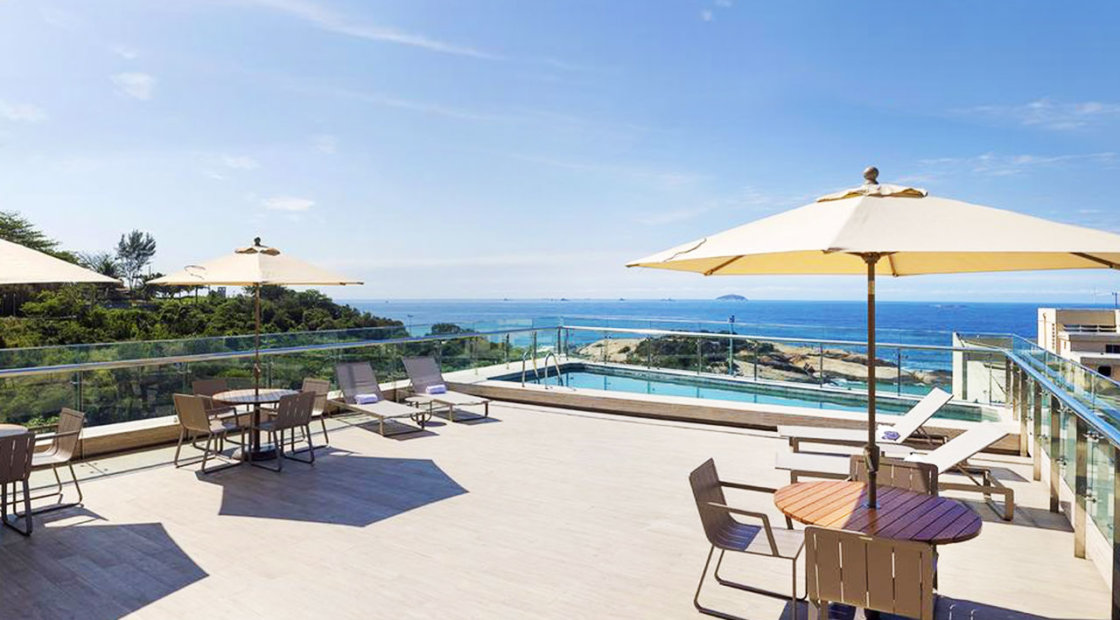 Arena Ipanema Hotel, Rio
As far as locations go, you can't do better than one of the world's most iconic beaches, with all the thrills of the city in easy reach.
Important Notes
Fly into Sao Paulo Airport (GRU) and out from Rio de Janeiro (GIG).

The plan is to meet at around 5pm on Day 1 in Rio, so please book a flight that arrives before 3pm if you can.

We're happy to book you an extra night at our Rio hotel, if you want to arrive a day early.

Please note that hot water shortages and power outages can be fairly common in Latin America (even in upgraded hotels and private homes). We appreciate your patience and understanding that these occurrences are outside of our control. During the rainy season the locations visited may change due to some routes being covered by water.

Please be aware that the itinerary, activities and hotels are subject to change. These changes can happen with little notice due to availability, poor weather, seasonal changes, or other circumstances beyond our control. From time to time we may also make changes to your itinerary to try out new ideas and keep things fresh.

We take safety very seriously on Flash Pack adventures, read more here.
What Flashpackers say
"Our guide Felipe was absolutely amazing – he couldn't have done enough to ensure we all were enjoying the trip. Rio is such a vibrant city and we all felt safe on this tour. There were lots of surprises thrown in throughout the whole trip. "
"Our guide, Felipe, genuinely cared about us and made sure we were all safe. The hotel in Rio is right next to Ipanema beach and Paraty was just beautiful. Food was awesome and they accommodated vegetarian diets! Highly recommended. Can't wait to do another one!"
"Flash Pack is an absolute must if you are looking for an amazing adventure packed with unique experiences, curated closely with the locals that know the destinations. You MUST pick Flash Pack!!"
"Great itinerary. Good hotels and great company. Worth the money that you pay."
OUR PROMISE
Joining the Flash Pack comes with a few special guarantees
THE PEOPLE
Our mission to create 1 million friendships so we obsess over the group dynamic. Everyone is aged 30-49, 98% travel solo & 80% stay friends. Want to know more about your group? GET IN TOUCH
THE SECURITY
We operate using a 3rd party trust bank account meaning we guarantee refunds in 14 days if your trip has to be cancelled BOOK WITH CONFIDENCE
THE TRIPS
Our trips are made up of 'can't-do-by-yourself' experiences – think staying on your own private island in the Arctic and glamping in Land Rovers on the Serengeti SEE TRIPS
THE GUIDES
We only work with trusted local guides who know their destinations better than anyone. We include guide and driver tips to make sure that our team are well looked after
Similar Trips
9 days in The Americas
Vibrant Colombia
12 days in The Americas
Peru's Rainbow Mountain
14 days in The Americas
Uncover the Inca heritage of Peru and Bolivia
13 days in The Americas
Ecuador & Galápagos: From the Andes to the Amazon
10 days in The Americas
Ultimate Argentina
13 days in The Americas
Challenge yourself in Chile
Subscribe to our newsletter
SIGN UP TO OUR NEWSLETTER
Hear about our new adventures before anyone else
Talk to an expert
Need help choosing your perfect adventure? Speak to one of our dedicated Travel Advisors now.
Contact Us
WHAT TO EXPECT
Hear about our new adventures before anyone else.
Be the first to hear about exclusive Flash Pack offers.
Access exciting competitions.
Receive weekly inspiration and travel stories from solos just like you.